Commercial Construction Company For Roanoke, Blacksburg, Harrisonburg, Lynchburg & Surrounding SW Virginia Areas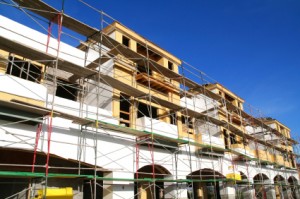 Commercial ConstructionCommercial construction is totally different from residential construction. In this type of construction, building companies and building contractors must follow specific building codes and regulations. These guidelines must be specific, according local, state and federal guidelines. Commercial construction deals with pre-construction projects, and does not stop until the project is complete.
Commercial building designs, builds, reconstructs and renovates both new and existing buildings. In most cases, the commercial remodeling contractors will accept a multibillion dollar project in the area of commercial renovation.
Their job is to completely bring a property up to code. This sounds easier than the actual process. Before construction companies or contractors can get started on a commercial building construction project , they must first complete a subcontractor pre-qualification process. The list contains all the information the bidder will need to submit to the proper department head. We already have our paperwork in order. Such pre-qualification information may include:
OSHA logs from the past several years
Current financial statement
List of insurance agreements
Company license number
Banking information and Duns and Bradstreet information
As well as the number of current projects that are still open
When commercial construction companies undertake a renovation project, the process from start to finish must be managed professionally. There is no room for errors or mishaps.
We provide commercial remodeling for every industry. Some of our biggest clients are apartment complex owners, hospitals and healthcare facilities, motel and hotel chains and restaurants. Each project is totally different; therefore, we approach each assignment as though it is unique. Commercial construction, and commercial remodeling requires paying attention to the smallest details.
If you have a building project that needs our attention, we guarantee to do adhere to all the deadlines, submit paperwork in a timely fashion, and answer any questions you may have. To learn more about F&S Building Innovations and why we are the #1 choice for commercial general contractor you should trust to help expertly complete your next construction project, contact us today.