Grocery stores, hospital renovations, ground-up construction or a redesign of your office lobby, all of F&S's services work together to help ensure every detail of your project is on point. When it comes to meeting customer standards, we know we're doing it right. We've been ranked in Qualified Remodeler Magazine's Top 500 for decades.
---
Pre-Construction
Get every detail right before the first nail. It's the only way to assure budget estimate efficiency, safety first and project timeline certainty.
Design-Build
From paper to reality. F&S will give you a "ground up" construction experience.
Safety First
F&S craftsmen build your vision. That's why their safety is the most important part of any project.
Self-Perform Work
F&S believes when we self-perform key aspects of each project, it allows our team to be proactive rather than reactive.
Accurate Estimating
It's frustrating to find out your project is over budget. That's why F&S is very meticulous when it comes to building your budget. It comes down to being good stewards of your money.
Click the Services Above to See More Details About Each Service
Commercial Remodeling
For over 30 years, F&S Building Innovations has been providing commercial building construction and commercial remodeling services for:
Hospitals & Healthcare Facilities
Retail Chains & Convenience Stores
Educational Facilities Including Colleges & Universities
Offices & Tenant Spaces
Warehouse & Industrial Facilities
Religious Assemblies
Commercial remodeling can improve your business, increase morale and productivity, and raise the standard of your organization's image. For properties that are leased, commercial remodeling can increase tenant retention and improve income. Remodeling your business is an investment that can pay significant dividends.
Commercial Construction
Commercial Construction Company For Roanoke, Blacksburg, Harrisonburg, Lynchburg & Surrounding SW Virginia Areas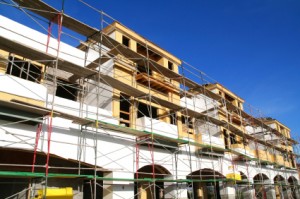 Business
Retail
Multi-use
Can a corporate headquarters be collaborative and highly productive, yet still feel warm and welcoming? What type of interior experience makes a retail establishment joyful and motivates buying? These are just a few of the many questions we've thought through on behalf of our commercial construction clients to enable successful outcomes. We obsess over safety because, simply put, it's the right thing to do. It also means fewer delays and a job site where we're free to bring our best ideas to the table, day in and day out.
Design/Build
The F&S Design-Build Method
The F&S Design-Build method allows the owner to contract with a single entity for both the design and construction of the project. This approach offers the following advantages:
Total accountability – single point of responsibility for the project design and construction
Reduced risk for Owner
Effective value engineering ideas that maximize construction practicality during the design process
Cost-savings and efficiencies
Fastest project delivery system allowing for a quicker move-in date (Fast Tracking)
Faster response to changing customer needs throughout project
Alleviation of potential conflicts between architect and contractor that sometimes occurs with the traditional delivery method
Every project is unique, and the F&S Design-Build approach may not always meet the objectives of the client. We stand ready to help our clients identify the method that best parallels their requirements.